Restoring Oliver Stone's Mercedes - the Elephant in the Archives
By William E. Kelly (billkelly3@gmail.com)
"It may seem to those nourished on the exploits of James Bond,…that journalistic activities have little to do with intelligence work. But intelligence is a mosaic. General material about background and people's interrelationships can be both illuminating and important. Quite often missing pieces of the mosaic emerge that make a previously incomprehensible picture unexpectedly clear." – Mary Bancroft (
Autobiography of a Spy,
William Morrow, 1983 p. 150)
The JFK Act of 1992 requires all government records on the assassination of President Kennedy to be released to the public in full by October 2017, unless kept sealed by the President, a daunting task since they don't even know exactly how many records are still being withheld.
The efforts to obtain the release of the records began before the Warren Commission concluded its business, and picked up steam after the House Select Committee on Assassinations (HSCA) concluded their investigation, sealed their records for fifty years, and exempted itself from the Freedom of Information Act (FOIA), requiring an act of Congress to free them.
After many years of fruitlessly lobbying Congress a small group of persistent researchers suggested that an attempt be made to take advantage of the surging publicity surrounding Oliver Stone's yet unfinished and unreleased JFK movie.
Just as the film "Executive Action" had a trailer at the end of the movie that mentioned the fate of many of those assassination witnesses who died suspiciously, it was suggested that the same technique be used to call attention to the still secret JFK assassination records. Such a widely viewed statement could stimulate the public's interest in the records, and indeed it did, so much so that practically every Congressman was asked about the sealed records and agreed to do something about it.
But rather than just release the HSCA records we sought, Congress went beyond what we asked for and extended the law to include all of the JFK assassination records of every government agency, but at the same time kept the HSCA records on the MLK assassination sealed, as they remain today.
Oliver Stone was one of the few outside the national security think tank system to testify before a preliminary Congressional hearing and given an opportunity to talk directly to the legislative committee responsible for government records and complained about the MLK records being left out of the law saying, "What do I have to do to get you to release them, make a movie about the MLK assassination?"
When he was asked what he expected to find in the files, Stone replied that he didn't expect a "smoking gun" document that would prove conspiracy because most of the important records will have been purged, but he did expect there to still be a few important pieces to the puzzle that will give us a more accurate picture of what happened at Dealey Plaza.
Stone compared the existing JFK assassination records to a 1963 Mercedes-Benz automobile left on a street in Harlem. Thirty years later it would have been stripped of its chrome, tires, radio and accessories, but the frame would still be there and you would still be able to identify it as a Mercedes.
The JFK Act was passed unanimously by Congress and reluctantly signed into law by President George W. H. Bush as one of his last official duties before leaving office. It was left to be carried out by President Clinton, who appointed the Assassination Records Review Board (ARRB), headed by Federal Judge John Tunheim to oversee identifying and releasing the records to the public. The law established the JFK Records Collections at the National Archives and Records Administration (NARA) at the new Archives II building in suburban College Park, Maryland.
So far millions of pages of documents have been released from many agencies of government, yet so many records remain sealed from the public that the archivists responsible for them can't tell us how many there are still being withheld.
It has been said that there are no Warren Commission records withheld or redacted, and a number 3,603 documents has been thrown about as the number of records still being withheld, but it's hard to nail down exactly what these records are, and how many pages there are, as some documents contain hundreds of pages.
Many documents listed on the NARA JFK Collection's digital public data base that are listed as still being withheld have in fact been released in full or in part in a number of massive data dumps over the years, with many documents labeled still withheld among them.
There are many researchers now poring over this list, and a number of things come to my attention right away, including the fact that some of these items are already in the public domain, and others or copies of others have already been released in the previous data dumps.
For the uninitiated, every document and record identified for inclusion in the JFK Collection at the National Archives is given a Record Identification Finder – a RIF number that begins with three digits that refer to the originating agency – and then a series of numbers that refer to the serial the record is contained in.
Using the National Archives JFK Collection Web site or the Mary Ferrell site, you can type in the RIF number and see if it has already been released, or as Bill Simpich has suggested, to find other documents that are in that series that gives you an idea of what the subject matter is if the subject is still classified, as many are.
REASSEMBLING OLIVER STONE'S MERCEDES
This is the just be beginning of the process that must be used to reassemble Oliver Stone's Mercedes.
Around the same time we were working with Oliver Stone to free the JFK files, my uncle Stephen Skip Hayes, a Catholic priest wrote a homily about our work, and compared it to the ancient story of the blind men describing different parts of an elephant. And that's kind of what we are doing, each taking a different part of the historical record and describing what's there and how it relates to what happened at Dealey Plaza.
There are a number of ways to locate new and important records from the data dumps, like a needle in a haystack, by following a few procedures.
As Peter Dale Scott has proposed in his "Negative-Template" thesis, the most important records are the ones we will never see, that have been purged from the official record, intentionally misfiled, stolen and/or destroyed. Second in line are the ones they are trying to keep sealed, and these are the ones we are looking at.
There is also the technique used by the college professor who recently discovered thousands of previously unknown documents written and signed by Walt Whitman, America's Poet Laurate. Knowing Whitman's signature by sight, he went looking through the Civil War records of the Attorney General, where Whitman worked as a secretary for two years, and expecting to find a few, was surprised to find thousands, so many that it will take years for Whitman scholars to go through them all. The idea is to go to a section of the archives where you would expect to find what you are looking for.
In any case, we are now in the process of describing the elephant at the Archives, and rebuilding Oliver Stone's Mercedes, a task that when completed, should give us a view of what really happened at Dealey Plaza, and if the Mercedes was driven by a deranged loner or was controlled by a highly sophisticated covert intelligence operation.
More to come on this. - BK
RECORD # TITLE TO FROM CREATED DATE AGENCY FILE # ORIGIN RECORD SERIES
# OF PAGES

178 SERIES - the first 13 records are documents from the 1975 Rockefeller Commission


178-10004-10424 (b) (1) 05/01/1975 CAR/HARDY JEWELS 1 CIA SUBJECT FILES 08/16/1993 17 pages
178-10004-10395 STURGIS TAPES, 4/4/75 04/04/1975 ROCKCOM STURGIS TESTIMONY/TAPES ROCK ASSASSINATION FILE 08/13/1993 10 pages
178-10004-10394 MC ILVAIN TAPE (DUPLICATE) 00/00/1975 ROCKCOM A-III (c) interview Tapes ROCK ASSASSINATION FILE 08/13/1993 5 (PAGES) Unclassified No transcript Date Unknown Two dicta belt envelope
[BK Notes - This refers to TV reporter Judd McIlvain - who covered Central America for ABC and is listed among the Rockefeller Papers (also still classified) For more on McIlvain see:
178-10004-10392 TAPE OF MR. WILLIAM K. HARVEY'S INTRERVIEW, 4/10/75
178-10004-10391 TAPE OF INTERVIEW OF COLONEL SHEFFIELD EDWARDS APRIL 9, 1975
178-10004-10389 TAPES OF INTERVIEW W/WILL WILSON 5/15/75
178-10004-10386 TAPE OF CONVERSATION WITH MC GEORGE BUNDY, APRIL 8, 1975 (W/BELIN)
178-10004-10215 CASTRO BUCHEN, PHILIP 08/07/1975 MATHENY DAVID BELIN'S SUMMARY REPORT WH ROCKEFELLER COMMISSION
178-10004-10196 CURTIS, E.G. 01/13/1961 DAVIS SSC-TRUJILLO ASSASSINATION, CUBA, CHILI DOS GENERAL SUBJECT FILE 08/10/1993 7 Top Secret Detailed me(mo?) Whiting, Will Gray, et al.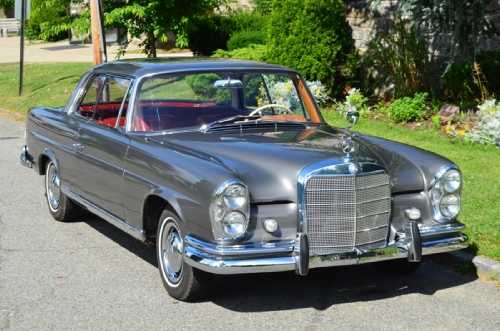 1963 Mercedes-Benz - Original - Thirty Years Later - Being Restored
104-10010-10249 ACCESS RESTRICTED 04/21/1964 CIA 201-289246 WC JFK 06/25/1993 7 pages Unclassified OSW15:V56B 1993.06.25.18:01:030250: THIS ITEM HAS BEEN WITHDRAWN BECAUSE IT CONTAINS SECURITY CLASSIFIED INFO OR OTHERWISE RESTRICTED INFO. DRAFT MEMO FOR THE RECORD
104-10013-10277 WITHHELD 01/01/1964 CIA 201-2889248 CIA JFK 06/29/1993 1 page Unclasssified OSW17:V3 1993.06.29.09:19:02:840800: THIS DOCMENT WAS PART OF THE NAME FOLDER ENCLOSURE TO RECORD NUM 111100001100007. PUBLIC DISCLOSURE OF THIS RECORD IS POSTPONED PEDING REVIEW BY THE ASSASSINATIONS RECORDS REVIE BOARD. DOCUMENT IN NOFORN