REPORT FROM THE FRONT - REFLECTIONS ON THE STATE OF AFFAIRS - Updated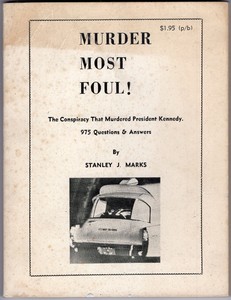 This report was a long time coming, but there were so many unsettled affairs I was waiting for some of them to get settled, though that might not ever happen. So here's what we got.
I am hunkered down in a bunker at the front lines - of JFK and Corona, at an undisclosed location deep in the New Jersey Pine Barrens, in a comfortable position, with TV, computers and internet access, food and some beer and wine, and cat Cozmo. And while I can't deal with Corona, I have avoided human contact for over a week now, celebrated St. Patrick's Day at home and am now, thanks to Bob Dylan, getting back to the JFK front.
To paraphrase our leader, Dr. Cyril Wecht, and unlike him, I do look around the battlefield to see whose fighting on our side, and it isn't pretty.
The Opposition across the Devil's Chessboard is well established, financed with unlimited funds, and has such permanent institutions as The Sixth Floor Museum, the Spy Museum, Cold War Museum, OSS Society and the Association of Former Intelligence Agents and Officers. They are focused on maintaining the status quo, and the official myths.
We are in disarray, under financed, unfocused, and have no permanent institutions that will survive us.
As a member of the board of directors of both CAPA and the Truth and Reconciliation Committee (TRC) I will report on them first.
CAPA has survived the resignation of Larry Schnapf, Esq., CAPA's lead attorney, who is now just another New York lawyer after he objected to Dr. Wecht attending the Judith Vary Baker (JVB) conference to receive yet another award from an historical group, whose Kansas City conference has been postponed.
CAPA will be holding a three day Nov. 20-21-22 conference at the same hotel this year, with our competent Secretary Glenda DeVaney serving as the Program Coordinator, with panels slated to deal with the Media and the Assassination (Though no media will cover it, as Dr. Wecht quipped), and a program featuring students and teachers that may include Stu Wexler and some of his N.J. high school civics class students who wrote and had the Cold Case Civil Rights law passed this year, something that no school class has ever done before.
Dr. Wecht will not be attending JVB's conference this year and will be concentrating on making the CAPA conference a success.
So far CAPA has held a press conference over Sunshine Week at the National Press Club in Washington D.C. featuring Federal Judge John Tunheim, former chairman of the Assassinations Records Review Board (ARRB). The following November CAPA held a Mock Trial of Lee Harvey Oswald at the South Texas College of Law in Houston, and a one day reunion of former Parkland doctors at the Old Red Courthouse at Dealey Plaza. Last November we held a two day conference at the Dallas Marriott Courtyard that included a Mock Texas Court of Inquiry that was a dry run to a real Texas Court of Inquiry that CAPA will be seeking.
There has been some problems with the video of the last conference, as we are working on it, a Japanese Documentary film crew also recorded many of the presentations and both John Newman, Jeff Morley and myself are working with them on this major project.
There are other JFK documentary films in the works too, as Mrs. Paine and the Assassination should be a wrap soon, and Oliver Stone/Jim DiEugenio "Destiny Betrayed" film is in production. Libby Handros of the TRC is also putting together a film, though it appears a year or so away.
The TRC is chugging along, though it lost most of its original momentum and is now down to a handful of key players, including Dan Storper, Bill Simpich and Jeff Morley, who have taken the lead of the project to interview or re-interview all living witnesses, and they have begun that process that I will be contributing to soon as well. Dan and Jeff went to Florida where they interviewed a number of connected Cubans and plan on returning once the Corona apocalypse is over.
There is no activity on getting Congressional Oversight of the JFK Act - the consensus is that Congress won't do anything until after the election, when that issue will be brought back to the table.
Jerry Policoff RIP February 27, 1947 - March 7, 2020
And we have lost a major player on our side of the Devil's Chessboard - Jerry Policoff.
Jerry was CAPA's original treasurer but had a falling out and resigned, much as he did with COPA. Jerry was in the wings when the Z-film premiered on TV, specialized in the Media and the assassination - (the subject of a CAPA program this November), and was the custodian of some of the archives of major researchers, including Roger Feinman, who worked for CBS and obtained many of their JFK related documents that were inherited by Policoff when he died.
Jerry's greatest moment was when he coordinated the program for the Assassination Archives and Research Center (AARC) Bethesda conference in 2014, a major achievement, but ended with him having a falling out with Jim Lesar, AARC chairman.
According to Lesar, Policoff had communicated with him a few days before his sudden and tragic death, and they had agreed for the AARC to obtain his and Feinman's papers. One of my last conversations with Jerry was over trying to obtain the JFK papers of Dallas reporter Earl Golz, and the fact that John Judge's COPA and Hidden History Museum books were being sold by the women who "inherited" them and has them stored in a York, Pa. strip mall, truly hidden history.
So much for our archival institutions outliving us.
Jerry was heavily involved in Bernie Sanders campaign, and was a specialist on medical insurance payments, and now he will miss the election and the Corona outbreak.
Jerry apparently had recently purchased a new Honda Civic, had complained of food poisoning, and was on his way to a meeting when his car crossed the line and had a head on collision with another vehicle with three people in it, two of whom died. A child survived.
Now there are more questions than answers, and I am trying to answer them.
Two moving tributes were written by friends of Jerry - Steve Jones at KandK and his associates at Op-Ed News:
https://kennedysandking.com/obituaries/jerry-policoff-feb-27-1947-march-7-2020
OP-ED:
MOVING ON
I am also working on new articles regarding Jean Daniel, Lisa Howard and Dan Harker, all of whom were major players in interviewing Castro. Also in the works is a summary of the Seven Days In LeMay articles I have written recently, a compilation of what JFK books and films are in the works, and a review of my interview with the real James Bond - timed for when the new 007 movie comes out - if it does.
MURDER MOST FOUL
Bob Dylan's new song, "Murder Most Foul," has a lot of bizarre lyrics, is not easy to dance to, but should spark some much needed controversy.
And I'll give a full report on Bob Dylan and Phil Ochs at Dealey Plaza, and what the impact his new song "Murder Most Foul" will have. The title comes from a book-$1.98 pamphlet subtitled - The Conspiracy That Murdered President Kennedy - 975 Questions and Answers by Stanley J. Marks, and published by the Bureau of International Affairs.
Does anyone have this little book? Does anyone know if Stanley J. Marks is still alive? And where is the Bureau of International Affairs located.
So many questions, so little time.
I'm also going to look into whether the Corona virus was a natural product or man made, and will be reviewing my previous work on chemical biological warfare, to see if there's anything there.
While the Devil's Chessboard seems a bit disorganized at the moment, we have a major Queen on our side - the truth, and she will guide us to win this Great Game in the end.
If you can, please support JFKCountercoup Research: